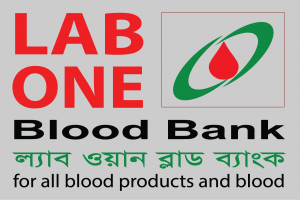 To collect blood of all groups from voluntary blood donors for critical patients who are in dire need of blood.

To preserve collected blood maintaining all required conditions.

To set up a modern blood bank with all required facilities.

To encourage voluntary blood donation & to maintain donor registry for common & rare blood groups.

To establish cooperation with other blood banks & voluntary blood donor clubs at national & International.
Available Blood & Blood Products at Lab One Blood Bank​
RCC (Red Cell Concentrate)
Platelet Rich Plasma (PRP)
FFP (Fresh Frozen Plasma)
  Emergency Contact:
        House No – 08, Road No -12, Sector – 14, Uttara, Dhaka – 1230.
        Tel : +88-02-55095160, Mobile : +88-01922-117676,
        E-mail : labone.org@gmail.com, or labonebd.info@gmail.com  
        Website : www.labone.org.bd